---
Area Attractions and Links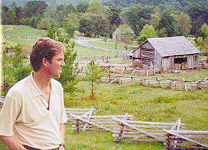 Mountain Homeplace 1850-1875 Living History Farm
Come and step into the Living History Farm with seven original log structures that will recreate the real life of the farm family that settled in Appalachia. Demonstrations daily of what life of the farm family was like from butter making, weaving and plowing with oxen to arts and crafts and cooking over the fireplace. Open during daytime hours 9 a.m.-6 p.m. P.O Box 809, Paintsville, KY 41240, located near beautiful Paintsville Lake.

---

Country Music Highway
U.S. Highway 23 from Southshore on the north to Elkhorn City on the south is the birthplace of several of the top stars in country and western music. Flatwoods is the birthplace of Billy Ray Cyrus, Ashland is where the Judds were born, Olive Hill lays claim to Tom T. Hall, Sandy Hook is the birthplace of Kieth Whitley, Ricky Skaggs was born in Louisa, Butcher Hollow is where Loretta Lynn and Crystal Gayle were born, Dwight Yoakam hails from Betsy Layne and Pattie Loveless is from Elkhorn City.

---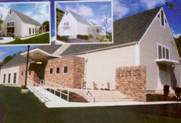 U.S. 23 Country Music Highway Museum
U.S. 23 is a designated National Scening Byway honoring country music entertainers who were born or lived along Route 23. The U.S. 23 Country Music Highway Museum opened in April, 2005 and is located next to the Paintsville Information Center off the Paintsville exit of U.S. 23. The Museum offers fans an opportunity to see displays created to honor many of the country music entertainers who consider U.S. 23 their home.
The Museum also has a unique gift shop that is filled with retail supplied directly from the various entertainers. Such items include cookbooks by Loretta Lynn and Naomi Judd. The gift shop provides an outlet for many of the various CDs, books and videos of for by local Appalachian crafters and artists that reflect the culture of U.S. 23. These items include hats, belt buckles, and recycled Appalachian designed blue jeans among others.
Another grand feature to the U.S. 23 Country Music Highway Museum is the Great Room. One hundred and sixty guests can comfortably be seated at either round or rectangular tables. Two hundred guests can be seated theater style. The room is equipped with a sound system, projection video capabilities and other amenities. It provides a spacious setting for various functions including wedding receptions, reunions, holiday get-togethers and private dinner parties. Caterers will find the kitchen facility accessible to The Great Room. The kitchen is filled with various appliances to ensure catered foods are kept fresh and ready to serve. There is plenty of parking adjacent to the building. Museum hours of operation for the Great Room are flexible. For additional information, call 606-297-1469.

---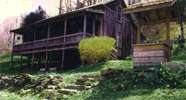 Loretta Lynn's Butcher Hollow Home
When Loretta Lynn belted, "Well, I was born a coal miner's daughter/In a cabin on a hill in Butcher Holler," it not only skyrocketed "The Queen of Country Music" to additional fame outside the realm of country music fans, but it merited her the everlasting respect of every person connected directly or indirectly with coal mining or mountain life. Visit Butcher Hollow, located in scenic Johnson County. Loretta's brother, Herman Webb, is curator of the Butcher Hollow Home. 15 minutes from Ramada Inn

---

Dawkins Line Rail Trail
Currently, the Dawkins Line Rail Trail is 18 miles long. When the second phase of the trail is completed, it will be 36 miles.

The first 18-mile leg of the trail, from Hagerhill in Johnson County to Royalton in Magoffin County, was opened to hikers, cyclists and horseback riders on June 15, 2013. This 18-mile section features 24 trestles and the Gun Creek Tunnel, which is 662 feet long. The trail follows the old Dawkins Line railroad bed that runs from Hagerhill to Evanston. The Dawkins Line Rail Trail is the largest rail-to-trail in the state.

---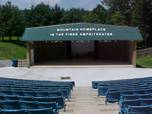 In The Pines Amphitheater
The In The Pines Amphitheater is located on the grounds of the Mountain Homeplace. It is built in the style of a Greek Amphitheater with capacity for seating 700. The amphitheater stage is in the design of an open barn. This combination of styles gives the amphitheater the feel of an ancient one with the look of a modern open design. The natural acoustic sound provides artists with a natural sound system unmatched in an indoor setting. The Red Bud Gospel Sing is held Memorial Day Weekend and hosts gospel singers from all parts of the United States. Various other shows are held throughout the year. Form more information on the Amphitheater, please call 606-297-1850.

---

The River Kentky Bridge
River, Kentucky offers visitors three distinct attractions. One of the most recognized attractions is the grave of Jenny Wiley. Wiley was a pioneer heroine who, along with her baby son, was captured by Indians October 1, 1789. Jenny Wiley was pregnant at the time and both children were slain during her captivity. Wiley survived her ordeal and escaped nine months after her capture. After reuniting with her husband they settled in Johnson County and raised a favily of five more children. Wiley died at the age of 71 in 1831.
River, Kentucky was also the home of the late Frank "Hylo" Brown. Brown was born April 20, 1922 in River. He earned his nickname "Hylo" because of his unique vocal range; he could sing notes anywhere from tenor to bass, a skill that would become his trademark.
One of the newest attractions at River is the Forest and Maxine Preston Memorial pedestrian bridge. The bridge was constructed from composite plastic fibers, making the 420 ft. bridge the longest pedestrian bridge in the world. The lightweight bridge creates a safe and unique walking experience.

---

Mountain Arts Center
A showplace for Entertainment in the Magnificent Mountains of Eastern Kentucky!
Truly a jewel, the Mountain Arts Center offers the area's largest variety of entertainment for all ages. The MAC, tucked in the beautiful Appalachian Mountains of Eastern Kentucky, is a fully equipped showplace with state-of-the-art lights and sound, 1,050 seats and a breath-taking theater hall. From classical to country, the MAC provides a year-round schedule of events sure to dazzle and entertain. The MAC is also home to the
Kentucky Opry
, a group of highly talented entertainers that regularly perform their dazzling variety show.
One Hal Rogers Drive, Prestonsburg, KY 41653
---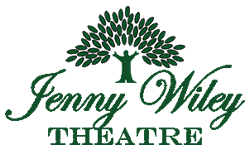 Jenny Wiley Theatre
In 2004, Jenny Wiley Theatre celebrates its 40th Anniversary Season of bringing quality theatre to the mountains of eastern Kentucky. For 39 years, over 625,000 people have enjoyed Jenny Wiley Theatre's staging of classic Broadway musicals and the historical drama,
The Legend of Jenny Wiley
. Nestled in the beautiful natural surroundings of the Appalachian Mountains within the boundaries of Jenny Wiley State Resort Park, the theatre remains one of the nations leading outdoor amphitheatres.In the summer of 1965 a small group of players from Paintsville, a small town just down the road, presented
South Pacific
--Jenny Wiley Theatre's first musical.
In its 40th season, Jenny Wiley Theatre is one of the oldest outdoor summer musical theatres in the country. As one of the few rotating repertory theatres still in existence, Jenny Wiley Theatre presents Broadway musicals on a rotating schedule from June through August. It is possible to see as many as four plays in three days once the season is in full swing. Jenny Wiley Theatre remains committed to rotating repertory as the best means of serving the needs of both the visitors to our area and the local theatre-goers who want to take advantage of our variety of productions throughout the summer. Now, Jenny Wiley Theatre provides fall and spring productions in conjunction with the Mountain Arts Center in Prestonsburg, KY.
---

Kentucky Apple Festival of Johnson County
It has been said that an apple a day keeps the doctor away, but the Kentucky Apple Festival each year will surely bring good cheer! The fun includes: The Apple Festival Parade, arts & crafts, amusement rides, flea market, country music shows, square dance, the apple run, apple delicacies, postage cancellation, car shows, apple auction, chilli cook-off, clogging, turtle trot, apple butter, merchants' market and gospel music show. First Saturday in October. Please follow the link to more info at the Paintsville/Johnson County Tourism web site.


---

Paintsville Golf Course
The Paintsville Golf Course was one of the first 18-hole courses in the Kentucky Highland, established in 1929.
Front Nine... is hilly with rolling fairways offering a variety of shots.
Back Nine... is level with two lakes, and the Big Sandy River weaving through. Water may come to play on all 18 holes. Two holes on the back nine, #10 and #17, require your tee shots to carry over the Big Sandy River. At that point, you face the challenge of crossing over our famous swinging bridge. 3000 KY Route 1107, Paintsville, KY 41240. (606) 789-4234.


---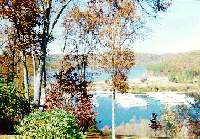 Paintsville Lake Wildlife Management Area
12,404 acres. Rolling hills with old field habitat, hardwood forest. Deer squirrel, grouse, quail, turkey, otter, wood duck, furbearers. Fishing and boating. No camping. Owned by U.S. 23 Army Corps of Engineers, managed by Kentucky Department Fish & Wildlife Resources. KY 460, 4 miles Northwest of Paintsville.

---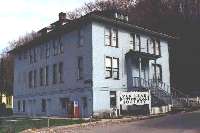 Van Lear Historical Society Museum - Former Consolidated Coal Co. office building. Includes model of the 1920's & 30's "company town." March - Nov. 15, Monday - saturday 9 a.m.-3 p.m.
6 miles Southeast, downtown Van Lear, U.S. 321 South (the Loretta Lynn Highway") to KY 302.

---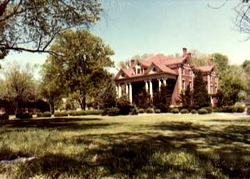 Mayo Mansion
1912 home of coal baron John C.C. Mayo. Now houses Our Lady of the Mountains School, kindergarten through grade 8, enrolls 72.
Tours by appointment. 3rd & Court Streets.


---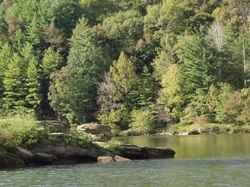 Dewey Lake
Fun-filled days await you on Dewey Lake's 1,100 acres of freshwater fun! The brand-new (opened Spring 1999) boat dock offers marine and fishing supplies, open boat slips, boat launching ramps and pontoon boat rentals from April-November. For "reel" excitement this is the place to be! The lake, and the tailwaters below the dam, has an abundance of largemouth and hybrid striped bass, bluegill, catfish, crappie, and trout. If fishing is not your thing, a day of just riding the waves may be what tickles your fancy most !
Off U.S. Highway 23/460 on KY.3, Prestonsburg.


---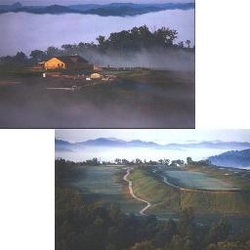 StoneCrest Golf Course
918 Clubhouse Drive
Prestonsburg, KY 41653
Telephone: 606-886-1006

StoneCrest Golf Course is municipally owned and was developed as part of a recreational/residential/industrial complex on a reclaimed surface coal mine. When completed, in addition to the golf course there will be an industrial park, 120 residential lots, along with soccer, softball, football, and baseball fields. The City of Prestonsburg obtained the property in various ways. The Corps of Engineers granted some excees acreage adjacent to their Dewey Lake project. Some tracts were purchased. Some tracts were donated by individuals and companies. Most of the property was obtained by trading lots in the finished sub-divisions for raw acerage. All in all, about 700 acres have been acquired for the project. The golf course is a championship caliber links style course designed by Chris Chrisman of Summit Engineering Inc. The course measures over 7000 yards with seven foot wide concrete cart paths that give easy access to the bent grass fairways, tees, and greens. More than 50 sand traps, some 50-75 yards long, make finding your way from the black, blue, white, or red tees to the large undulating greens a pure test of golf. Negotiating the five ponds can be a challenge in the ever present mountaintop breezes. You will be welcomed to the spacious and well appointed clubhouse and pro shop by the outstanding StoneCrest staff. Lessons are available by Larry G. Ward, the head professional. The pro shop features the best equipment available and also offers full club repair. StoneCrest hospitality and service are famous in the golfing community. After practicing on the putting green and driving range, or playing a round of golf, relaxing in the shade on the 2500 square foot club house porch is a treat. Views of up to 50 miles in any direction from nearly every spot on the course and the clubhouse make StoneCrest a destination you will not want to miss.


---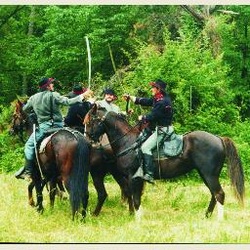 Middle Creek National Battlefield
Route 114
Prestonsburg, KY 41653
Telephone: 606-886-1312

The Battle of Middle Creek Floyd County, Kentucky January 10, 1862 Though they were once stained with blood and blackened by the smoke of two thousand muskets, the hay fields which welcome today's visitor to the Fitzpatrick Farm on Middle Creek look no different than those found on other Eastern Kentucky farms. Compared to the Battle of Antietam Creek, the Battle of Middle Creek was only a skirmish. Nevertheless, it had a significant impact on the course of the Civil War. It ended Confederate supremacy in the region, and it launched the career of the man who became our twentieth president. With good reason it has been called the battle that launched a presidency. On January 10th, 1862, James A. Garfield, an obscure Ohio college professor and newly-minted colonel of a regiment of Ohio volunteers, launched an attack on a brigade of Confederate soldiers holding a position on the ridges overlooking the Forks of Middle Creek, located two miles west of Prestonsburg, Kentucky. The Confederates were commanded by Brigadier General Humphrey Marshall, a seasoned veteran famous for his exploits during the Mexican War. We invite you to read the history of this nationally significant battlefield, learn about its participants, and become acquainted with the Middle Creek National Battlefield Foundation and its plans to develop the battlefield as a historic site.

---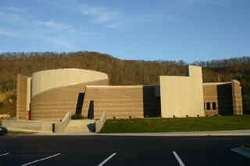 East Kentucky Science Center
207 West Court Street, Suite 201
Prestonsburg, KY 41653
Telephone: 606-889-0303
Toll Free: 606-889-0306

Science Center, Planetarium, Exhibit Hall, Classroom and Emporium on the campus of Prestonsburg
Community College, Prestonsburg, Kentucky The East Kentucky Science Center is a private, non-profit education organization devoted to providing science learning opportunities to students, teachers, and the East Kentucky community. Donations are tax deductible. The center is based in Prestonsburg, Kentucky.

---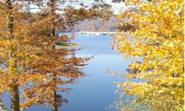 Kiwanis Walking Trail The Kiwanis Walking Trail is located across from the Administrative Building at the Mountain HomePlace. The 1.6 mile trail offers an easy to moderate walk. The trail has several stopping points that allow the visitor to sit and look at the beautiful Paintsville Lake. One might also see wildlife such as wild turkey, squirrels, deer, geese and many other native woodland animals. The Kiwanis Trail is open from daylight to dark. For more information on the trail, please call 606-297-1850.

---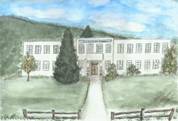 OSCAR (Oil Springs Arts and Recreation Center) The Oil Springs Arts and Recreation Center once served as both a high school and elementary school for the community of Oil Springs, Kentucky, located seven miles west of Paintsville, in Johnson County.
Today, the OSCAR serves as a regional arts educational center. Classes include spinning, weaving, quilting, pottery, woodcarving, painting, heritage art, recycled art, dance, music and drama. Special activities and workshops are held at various times throughout the year but visitors are always welcome. Specific classes can be scheduled for tour groups. The Medina Garden Cafe is available for large group activities. Gift items are also available. For hours of operation or to schedule a visit or tour, please call 606-789-8108 or 606-297-7775.

---
---